Smock top into asymmetrical maternity skirt
Day 6: Upcycle a smock top into a skirt with a asymmetrical hem
How to upcycle a smock top into a maternity skirt
works great as a maternity skirt or postpartum skirt
Asymmetrical hem skirt refashioned from a smock top
When I saw this at the thrift store I automatically knew what I wanted to do with it. I was shopping with one of my good friends. She was not impressed with this top at all, even for $1. I said "It's for the blog, I am going to refashion it" She said "It looks like it's for a little girl" I said I am not going to leave it like this…. It's for the blog. "She said I don't like it." I gave up
This is the inspiration I had in my head when I got the $1 top at the Goodwill. The inspiration is a fancy $228 anthropologie skirt called The Corvida skirt.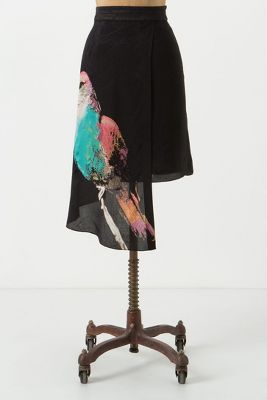 Anthropologie $228 Skirt the Corvida Skirt my insperation
My final product turned out to be very loosely inspired by this. However I think if I had been working with a longer top or even a Maxi dress to start with I could have made something that more closely resembled my inspiration. Ah...next time, but hey I spend $1 on a smock top that "looks like it was made for a little girl" and I got a skirt I quite like
Ok so lets get started on a fun asymmetrical hem skirt that will work as a maternity or
postpartum
skirt
Step 1
Supply list
1.You will need a double layered smock top (a double layered smock maxi dress could also work)
2.Scissors
Now that is a nice short supply list, right?
Step 2
Remove straps. The garment I was working with had the straps attached in a very unusual way. This made it easy to remove them. I just had too cut the plastic things of and then pull the straps off.
Step3
Separate the two layers from each other. (we only want to work with the bottom layer)
Fold the
garment
sideways(so the two side seams are touching rater than the front and back touching.
Then chalk a half circle shape in the bottom layer and cut away(like I have in the Photo)
I got lucky as always and did not have to hem the bottom of this
TA DA now you have a asymmetrical skirt with a very stretchy waist band that is perfect for a maternity belly, or like in my case a postpartum belly that is not quite back into shape.
I just love how it looks and I have to post more photos
I think I forgot to prove that this would work for a maternity skirt. Or perhaps I just can't stop posting pictures because I love this skirt so much
The smock top makes an excellent waist band for a prego belly
Ok I hope you like! Very easy to make so please let me know your thoughts on this refashion